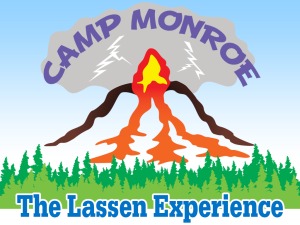 After a 2 year shutdown during COVID-19 , Foothill Middle School's field study science trips are back! Camp Monroe: The Lassen Experience is scheduled for Monday, June 6th – Wednesday, June 8th, 2022. This 3-day/2-night flagship trip to Lassen Volcanic National Park and the surrounding area began in 2001. The adventure activities include cabin accommodations on Lake McCumber, Lassen's Sulfur Works, *Snow Summit & Devastated Area, Subway Lava Tube, Spatter-Cone Trail, Coleman National Fish Hatchery, Hat Creek Radio Observatory, Burney Falls, Shasta Caverns and Dam, Turtle Bay Exploration Park, and more!
Over the last 20 years, Mr. Monroe has worked diligently to keep the costs of attending as low as possible for students and families, while operating on a "shoe string" budget. This year is no exception. As we all are aware, costs have risen across the board with inflation. Nationally, the average cost per student for overnight field trips in 2022 is currently $170 – $325/night as indicated by the online resource, Summer Camp Hub.
Factoring in costs for the 3-day/2-night trip, including increases for the 47-seat bus and fuel ($170/person), cabin accommodations and food ($170/person), vendor fees, insurance, and Certificated Teacher staffing — Camp Monroe is now priced at $224/day for 2.5 days ($560 total). In order to secure your student's spot, payment options include 50% ($280) deposit or full ($560) payment due when registering.
Payment preference is Zelle and/or checks, but PayPal and Credit Cards are accepted through PayPal.
Please refer to the details on the Camp Monroe Registration page for more detailed information.
As with all MSES trips, space is limited to a "first come, first serve" policy for students and chaperones. Chaperones are ALWAYS FREE and vetted through MDUSD. A separate Chaperone Registration form must be filled out. *Trip Contingency: Each bus must have 33+ students to schedule the 1 to 2 buses. For families experiencing economic hardship, partial $160 scholarships are available when the minimum bus requirement is met.
Please Contact Us if you are interested and reserve your spot today!
Thank you!