Monroe Science Educational Services (MSES) is a secondary educational, science-based, field study trip and consultation business. We enjoy serving the community with an emphasis on bringing "real-world" science topics, processes and applications to students and families. Our programs are aligned with National NGSS and California State Science and Environmental Standards.
The MSES logo combines elements representing fascinating educational possibilities as well as the importance of conservation. Our scientific interests include space exploration, comparative planetary geology, astro-biology, and the dire necessity of restoring California's ecosystems—beginning with missing Keystone Species such as the Grey Wolf and the Grizzly Bear.
MSES is also available for a variety of consultation needs for individual and full staff development; in order to meet your science and science educational challenges. Consultations are geared towards teaching mini-science lessons through labs, realia, and technology for a complete interdisciplinary and multiple intelligences approach.
Monroe Science Educational Services also designs individual workshops to meet your science educational challenges. Workshops are geared towards teaching mini-science lessons through labs, realia, technology and "old-fashioned" worksheets for an interdisciplinary and multiple intelligence approach.
Our Mission
The goal of MSES is to bring expert Science Literacy, Science Education, and Real-World Science Topics and Techniques to students.
Monroe Science Educational Services is an educational endeavor designed to "bridge the gap from the known to the unknown". All projects, programs and workshops are completely aligned with both National and California State Science Standards.
Education is everywhere – particularly the natural world.
Our Founder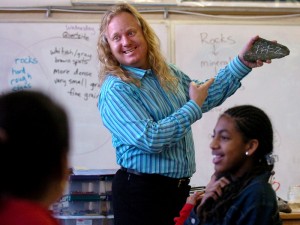 Monroe Science Educational Service's founder James Randy Monroe has always been passionate and enthusiastic about science. With a Bachelor of Arts in Liberal Studies, a Masters in Science Education & Technology Leadership, a Multiple Subject Teaching Credential with a Science Authorization, and a Single Subject Credential in Earth and Planetary Sciences—he has served on the California Subject Examinations for Teachers Testing Board and developed the current Earth & Planetary CSET science test.
Monroe is currently employed by Mt. Diablo Unified School District, and he began his professional teaching career in the Spring of 2000 for the Pittsburg Unified School District at Highlands Elementary 4/5 class. He has later moved full-time at Antioch USD at Bidwell Elementary as a 4/5 Special Day Class Instructor working with children with a vast array of learning challenges. Knowledgeable in both Spanish & American Sign Language as well as the core skill sets to work with children across the entire spectrum, he was hired in 2001 by Mt. Diablo USD to teach science at Glenbrook Middle for mainstream and English Language Learners (ELL) and as the Gifted & Talented Education (GATE) Coordinator. At Glenbrook, he was awarded "Teacher of the Year" through both Prudential Realty & Walmart. At the Title-One school in Concord, he spent five years as a Science Teacher and the Gifted and Talented Education (GATE) Coordinator.
Since 2003, Randy has collaborated with fish biologist, Chris Miller, of the Contra Costa County Vector Control and Mosquito Abatement. In the classroom, he began a care habitat for Sacramento Perch and other local species through his "Native Fishes Program". The program works to share the importance of these threatened and endangered local species. Both served on the northern California Fish & Game "Trout in the Classroom " board in 2008, and through a grant purchased a cold tank to have Rainbow Trout—Oakland's "1855 claim to fame". For over 20 years, Randy worked with CCVCMA and CA Fish & Wildlife with his classroom "Cold-Blooded Ectotherms – Native Fishes & Herps Program". His class became home to over twenty native species—including Rainbow Trout, Sacramento Perch, Tuke Perch, Starry Flounder, California Roach, Sacramento Splittail, Three-Spined Stickleback, Mosquito Fish, Western Pond Turtle, King Snake, Gopher Snake, Garter Snake, California Toad, Pacific Tree Frog, Red-legged Frog, Alligator Lizard, Western Fence Lizard, Tarantula, Wolf Spider, Crayfish, Freshwater Clam, and others—until the 2020 pandemic forced its closure and the animals were returned to the wild.
During the years 2002 thru 2005, Monroe coordinated the three annual 6th grade "GATE Science Days" and continued as a Lead Teacher each summer in the MDUSD GATE Summer Program "Talents to Go" until budget constraints ended the program in 2009. He began field trip planning and implementation in 2000, and since that time, has coordinated well over 100 standards-based field study trips for middle school science classes. Trips include Camp Monroe, the Lassen Experience (est. 2001), Monterey Bay Day (est. 2003) and SF Science Day (est 2010).
In 2006, he moved to Foothill Middle School in Walnut Creek, California—ranked as a California Distinguished school that has won National Blue Ribbon and Green Ribbon Awards. Randy was part of the MDUSD science curricula adoption in 2010 and 2022, as he had spent a decade on the board of The Contra Costa County Association of Science and Math Educators (CASME) based in Walnut Creek. He coordinated the annual "Educators Day" at the Lindsay Wildlife Museum held for educators each school year.
Proud to be a member of NASA's Johns Hopkins Applied Physics Lab (JHUAPL) New Horizons Education Team headed by the Johns Hopkins Applied Physics Lab, Monroe was invited as a VIP to NASA's Cape Canaveral Florida. In January of 2006, he and his family viewed the launch of the New Horizons Probe to Pluto, Charon, and the Kuiper Belt. They also enjoyed a private tour of the now decommissioned Space Shuttle Program. The Lockheed Martin Atlas V that launched New Horizons on January 19th 2006, was the fastest ship to ever leave Earth and arrived at the Pluto/Charon system in July of 2015. Monroe's Stepfather, James Christy, discovered Pluto's largest moon Charon in 1978. Christy named it in honor of Monroe's mother, Charlene. On New Years Day 2019, New Horizons gathered data on Kuiper Belt object Arrokoth.
In the summer of 2006, Monroe worked through Industrial Initiatives for Science and Math Educators (IISME, now Ignited) at Lockheed Martin. He was a Systems Engineer working in missile defense. When his stepfather left the US Naval Observatory, he went to work for Hughes Aircraft in missile defense, which is now Raytheon. Randy wanted to learn about some of the areas that his father worked in, so he studied infrared imaging, focal plane arrays, and cryo-coolers. He went on to create curricula to use in the classroom with skills and information from a previous workshop at Lawrence Livermore Labs and the National Ignition Firing System (NIF) using night vision goggles and a CO2 detector with an IR spectrometer cell, to monitor greenhouse gases.
As an educator, Randy has been a staunch supporter of the Monterey Bay Aquarium (MBA) and Research Institute (MBARI) through his annual field study trips. He has contacted numerous oceanographic organizations for their ongoing research—Scripp's, Woods Hole, Neptune Project, Oregon State, Montana State and Penn State's Ridge 2000 Program, as well as a multitude of scientists regarding hydrothermal vent and hot spring microbial ecology—including experts at Humboldt State researching the Lassen Peak hydrothermal area.
During summer in 2007, again through IISME (Ignited) and a grant from Lawrence Berkeley Labs, Randy began working with the Department of Energy's Joint Genome Institute (JGI) to sample extremophile (extreme condition living bacteria) from the hot springs of Yellowstone under the guidance Dr. Phil Hugenholtz, the discoverer of the novel Obsidian Pool lineage in 1997; OP1-12. For context, one of these phyla of thermophilic (heat loving) bacteria encompasses more genetic history than all eukaryotes (protists, fungi, flora and fauna) combined.
Monroe soon obtained a special permit through U.S. Fish and Wildlife and was guided by Dr. John Spear of the Colorado School of Mines. For over two summers, he studied the Obsidian Pool lineage using polymerase chain reactions (PCRs), electrophoresis gels, and fluorescence in situ hybridization (FISH) to photograph and sequence.
Being intrigued and fascinated by the oceans for as long as he can remember, the discovery of hydrothermal vent systems on the ocean floor in 1977 by famed oceanographer Dr. Robert Ballard inspired him to study in-depth microbial ecology. Monroe had the pleasure of meeting Dr. Ballard at an oceanography lecture in 2010.
In 2007, Monroe began communications with Dr. Robert Pappalardo, NASA Jet Propulsion Lab's (JPL) Senior Research Scientist in Planetary Science and Principal Investigator for NASA's Europa Clipper mission – Jupiter's icy moon. This mapping and data-gathering mission will lay the platform for our search of extra-terrestrial organisms that may be similar to those found around hydrothermal vent systems on Earth.
A longtime advocate for the return of the Grey Wolf, Brown Bear, and Grizzly Bear to northern California, Randy has been a member of Defenders of Wildlife, the Sierra Club, Earthjustice, and the Center for Biological Diversity. He visited the California Wolf Center in Southern California which raises the extremely endangered Mexican Grey Wolf, and in 2007 he accompanied a sampling expedition for the Joint Genome Institute (JGI) at Yellowstone. Monroe had the opportunity to meet with Dr. Douglas Smith – Chief Biologist for the Wolf Reintroduction. After sampling at the Norris Geyser basin, he was extremely lucky enough to have three representatives of the Hayden Valley Wolf Pack cross right in front of his vehicle – a very rare opportunity for any human. Monroe continues efforts in support of bringing native Wolves back into the wild natural areas of California—particularly in the northern part of the state at Cascade Volcanic and Klamath Ranges and the Sierra Nevada. He developed the North American Wolf Ecology curricula with UC Berkeley's WISE/TELS Program, a web-based inquiry science environment.
Randy Monroe is also a professional entertainer and lead vocalist for two National Rock Tribute Bands – HOT FOR TEACHER and RockSkool. He has performed at numerous education fund-raisers, including for DonorsChoose. A United States-based nonprofit organization, DonorsChoose allows individuals to donate directly to public school classroom projects, and in 2018 they announced that 1 million projects had been funded.
As an entertainer, one of Monroe's standout moments was getting to "spin around the block" in the cockpit of the famous C-130 "Fat Albert" aka "The Vomit Comet". The opportunity surfaced in 2008 during San Francisco's 2008 Fleet Week—upon a friendly interaction with former Commander Russ Campbell and The Blue Angels, a flight demonstration squadron of the United States Navy.
Randy continues to research and seek to develop cutting-edge, science-based curricula, and he endeavors to spend his days learning, teaching, and exploring.